Any adult can benefit from the peace-of-mind that can result from planning for a possible time when they are no longer able to direct their own medical care. This is especially true for people who have been diagnosed with a serious chronic or life-threatening illness and for people in their senior years.
Looking at your advance care planning can ensure your wishes are followed and alleviate stress for family members and prevent unnecessary family suffering and conflict.  Physicians and other health care professionals also benefit from knowing that they are acting in accordance with your wishes.
In British Columbia, the Representation Agreement Act, which came into effect in 2000, is a mechanism by which adults can name a Representative to make decisions for them, if, by reason of injury or disease, they are no longer able to make their own decisions. The person (or persons) designated can make personal care and medical decisions.
Show more
If there is no Representation Agreement, the Health Care Consent Act names the next-of-kin as a substitute decision maker for people who are not able to give or withhold consent to medical treatment. This legislation also states that decisions made by the substitute decision maker have to be in accordance with the person's expressed wishes and instructions.
In situations where conflict between various family members is possible, or if your next-of-kin does not share your values and beliefs, it is more crucial that you do the necessary pre-planning to address your needs, and make your family or designated representative aware of the importance of your values and beliefs. 
Such instructions are known as advance care planning – you are making medical choices in advance that only have relevance while you are still living. To address this issue, gather information, consider the options and discuss your thoughts with your family physician, your family or others close to you.
In British Columbia, those facing chronic or serious illness can discuss their treatment options and wishes with their physician and fill out a MOST form.  The MOST form is signed by the physician and guides the medical care team towards appropriate levels of care in relation to your wishes.
It is also important to remember that these documents are a form of "insurance" and may never come into effect. If you remain able to direct your own affairs and give or withhold consent to medical treatment, they will never have to be used. Having them in place, however, provides you, your family or loved ones with peace-of-mind should the need ever arise.
Funeral Arrangements
Someone you care for has died. You may be feeling numb, confused, distraught, and exhausted. Making funeral arrangements and taking care of business may seem insurmountable.
Consider contacting a close friend or relative, so they may give their support and practical assistance. Hospice volunteers are also available for emotional support and to help you attend to practical matters. You may also wish to contact your spiritual or religious advisor.
If the deceased had a lawyer or an executor, contact this person to see if they have been given instructions for planning the funeral and/or if the deceased was a member of a Memorial Society. If no wishes have been left, and there is no executor, the closest relative has the responsibility of making funeral arrangements.
Contacting a Funeral Provider
The most common arrangement is to contact a funeral provider of your choice. In B.C., families can make the arrangements themselves if they wish (see end of this section). The following funeral providers serve the Nelson area:
Thompson Funeral Service Ltd 352-3613
When you meet with the Funeral Director discuss fully and frankly all options and details of the funeral arrangements, including cost. You may find it helpful to have someone with you to assist with the details. You will be asked to make decisions regarding:
burial or cremation

place and site of burial, grave marker

type of casket or urn

selection of clergy or facilitator for the service

time, place, and type of service. This may range from a formal traditional funeral, a memorial service, or a simple gathering at someone's home. If the deceased did not leave instructions, you will be deciding how to mark this event. You may need a few days to decide and to await the arrival of family/friends.

embalming (this is seldom legally required)

viewing of the body (this can be important for many people, in particular, if the death was sudden)

clothing for the deceased

pallbearers (avoid designating people with heart or back difficulties, instead make them honorary pallbearers)

music

flowers or donations (if you prefer to have memorial donations sent to an organization, include this request in the obituary). You may wish for the flowers to be distributed after the service

obituary notice. This may be written by a family member or friend, or as a service of the Funeral Provider
In order to register the death the funeral provider will require the following information concerning the deceased:
full name, occupation and address

citizenship

place of birth

date of birth

full name and birthplace of the father

maiden name (and all given names) and birthplace of mother




You will also need the deceased's Social Insurance Number and War Veterans Serial Number, if applicable.
When completing the Registration of Death, the Funeral Director will also arrange for the Burial Permit and the application for Death Certificates (needed in order to settle an estate).
For those who wish to take on more of the work of after-death care of their loved one at home, you can contact Nelson End of Life Society for support with that.  Their number is 250-509-1617 and their website is nelsociety.org 
Using A Funeral Celebrant
A Funeral Celebrant officiates at funeral services for families who are not attached to a church or who do not wish to have a traditional religious service. The Celebrant will hold a meeting for the immediate family to share special memories from the life of the deceased. Out of that gathering, the Funeral Celebrant will design a service–in consultation with the family–that best reflects and memorializes the life of the loved one. That service may include a eulogy, readings, music, a video tribute, and ceremonies such as candle lighting, or placing flowers at the graveside. The job of a Funeral Celebrant is to help create a ceremony that is a personalized reflection of the life of the deceased.
Details to Consider
Coordinate date of the funeral with travel plans of relatives and friends who are coming for the service

Notify relatives, friends, employers and colleagues of the death and the date and time of the funeral

Make arrangements to have someone answer the door and telephone and keep a record of calls, cards and flowers. Prepare a list of persons to receive acknowledgments

Have someone coordinate the supply of food for the days ahead




Arrange child care if needed and hospitality for visitors. Consider special needs of pets

Ensure your home is looked after on the day of the funeral. Some burglars use obituary notices to learn when a home is unattended

Arrange for a reception after the service, if desired
Sources of Assistance
The expense of a funeral should never be a burden on those left to grieve. The B.C. Government and some other agencies have programs to ensure people are provided with reasonable and dignified funeral/memorial services. Each organization has its own policies, procedures, and maximums. Contact them in advance of the funeral and be aware that if you arrange the funeral yourself and sign the contract with a funeral provider, you may be responsible for all costs.
Assistance may be available from:
Canada Pension Plan

has a death benefit available to any person who has been covered by the plan for three or more years since 1966. The amount varies per individual and on receiving the application takes about 8 weeks to process. You will need the deceased's Social Insurance Number. Phone 1-800-277-9914.

The Public Trustee will arrange the funeral services if no family or friends are willing and able to accept responsibility. Contact this office through Enquiry B.C. at 1-800-663-7867.

Veterans' Affairs Canada & the Last Post Fund ensure that those who have served in the Canadian Armed Forces during times of war are provided with a dignified funeral. For information phone 1-800-663-1931.

The Ministry of Human Resources

provides those on income assistance and those without financial resources with funeral costs, including a casket and either burial or cremation. A grave marker is not provided. For information call 354-6488.

Check all life and casualty insurance and death benefits including Old Age Pensions or Social Security, insurance policies including car insurance and homeowners mortgage insurance, extended care plans, Trade or Credit Union Plans and Income Protection.
Autopsy Information
In most cases of sudden death or unexpected death, the Coroner's Office will require an autopsy. If this is the case, it may mean a delay between the time of death and the release of the body. Also, the family or the physician may request an autopsy even if one is not required. In these cases, the next-of-kin will be asked to give written permission. The deceased can still be viewed prior to or at a funeral service following an autopsy. In the case of sudden death, you may be questioned by the police as part of their investigation. If crime is involved, you may be asked to appear in court as a witness. You may feel frightened and confused. Help is available through police-based Victims Services by calling 354-3919 (Nelson City Police) 250-354-5196 (in office only Wednesday and Thursday – other days call Nelson Victim Assistance 250-354-3919).
Private Funeral Arrangements
If the family wishes to arrange the funeral, including the transportation of the body for burial or cremation, independently of a commercial Funeral Provider you must arrange for the Registration of Death and the Burial Permit before transporting the body.  Nelson End of Life Society (www.nelsociety.org) has printed information on how to make these arrangements which is available on request.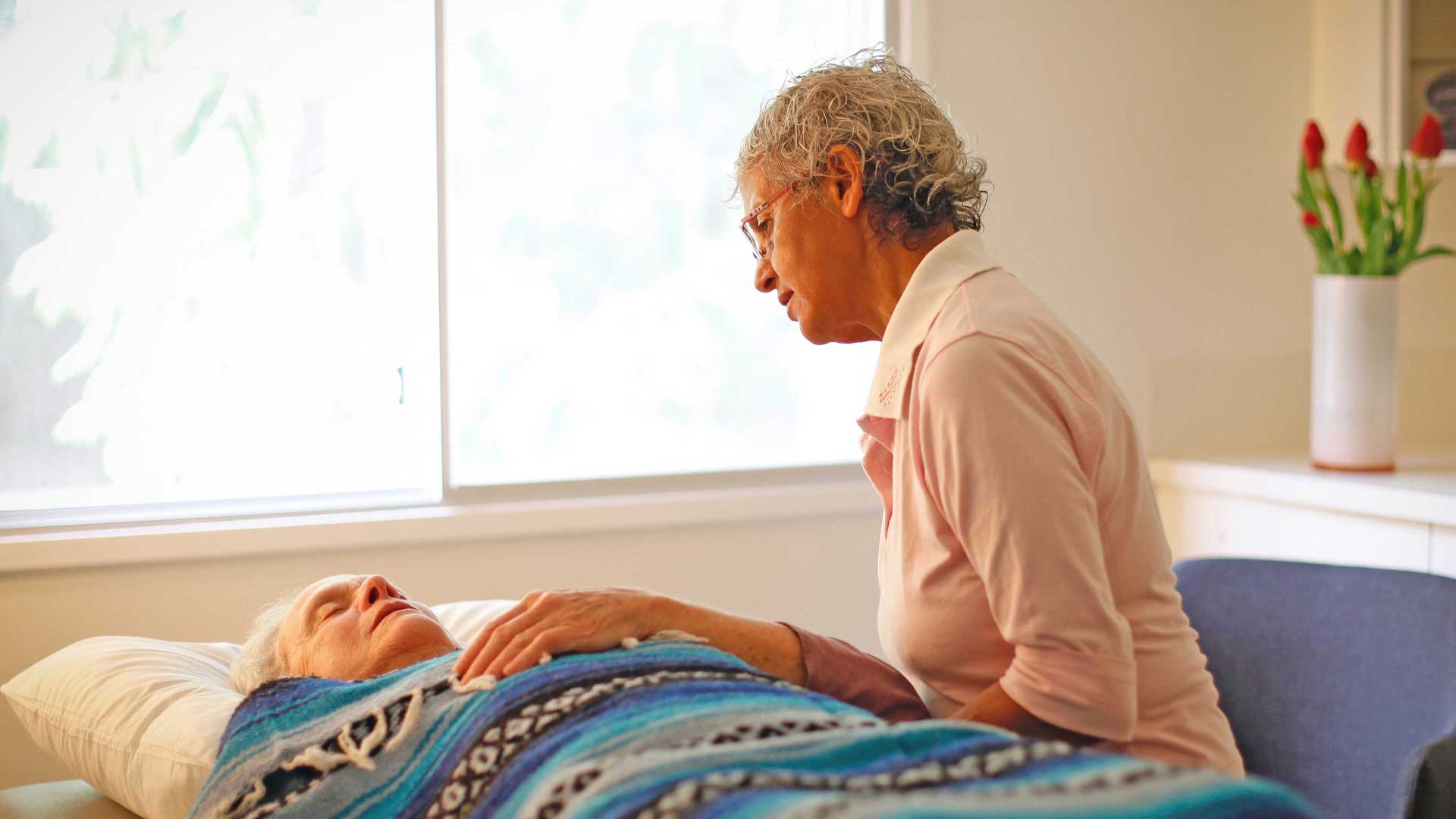 info@eastshorehospice.org
Nelson & District Hospice Society works closely with healthcare providers, counsellors, therapists, clergy, and pharmacists to provide compassionate care and support for the dying and the bereaved in our communities.